Hello, I have great news for you and your Instagram profile. From today, in addition to scheduling your posts thanks to Tailwind, you can also use the "Smart Instagram Assistant" to manage your social content. Keep reading the article and you will find out all the necessary information about it.
DISCLAIMER: ATTENTION, THIS ARTICLE CONTAINS AFFILIATE LINKS, SO WITH EVERY CLICK OR SALE I WILL BE CREDITED A PERCENTAGE OF EARNINGS FROM THE ADVERTISED COMPANIES. I HAVE SUBSCRIBED TO ALL THE SPONSORSHIP PROGRAMS, SO I REALLY RECOMMEND THEM AND I WRITE TO YOU SINCERELY. FOR DOUBTS OR CLARIFICATIONS I INVITE YOU TO READ THE PRIVACY & COOKIE POLICY OF MY WEBSITE, ENJOY THE READING.
MY USEFUL ARTICLES ABOUT TAILWIND:
Instagram grid online: new features
What I want to talk to you about today is great news for Tailwind that will allow all of us bloggers, vendors (and not only) to better manage our Instagram profiles.
If you follow my blog, then you will surely know that I have already spoken several times about Tailwind and the numerous possibilities that this tool offers, I have also attached at the beginning of this article the most important resources of my blog on Tailwind that could help you with the your profile.
Today I'm talking about Smart Instagram Assistant, or the new tool introduced by Tailwind that allows you to create an amazing Instagram grid online with numerous features, more than all those offered by the various smartphone applications that offer a similar service.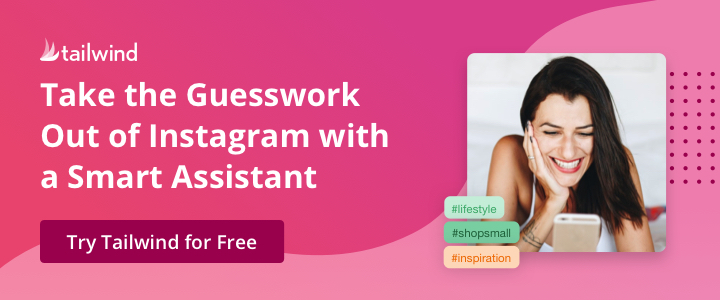 Until now Tailwind allowed you to:
Schedule your posts on Instagram;
Find the hashtags most in line with your posts thanks to Hashtag Finder;
Customize your Instagram bio;
Check your profile analytics.
From today, thanks to the new features of Tailwind's Smart Instagram Assistant tool, you can:
Use the famous "grid" to create your instagram posts and have a complete view of your instagram feed;
Choose the best times you want to use to schedule your posts;
Save the hashtags you want to use directly on Tailwind and create a list with all the hashtags that interest you;
Having a wide range of high-definition images available to use for your posts thanks to the integration with Unsplash;
Edit your photos directly on Tailwind thanks to the editing tools;
Hide your hashtags (if you entered them in the first comment of your post).
And so on. These are just some of the new features Tailwind offers for your Instagram profile. Take advantage of your initial trial period or, if Tailwind has already convinced you, choose your subscription plan below and start using the service for your profile: try here.
Practical tips to use it better
Choose the niche (i.e. the theme) of your posts well – before publishing your posts, plan them. Choose the main theme of your instagram channel (1 or 2 maximum) and create your posts on it. It is important that your followers clearly know what you are talking about;
Choose a specific style for your photos – when taking a photo for instagram, always try to use the same parameters as the other photos on your profile: for example, do you have an instagram profile with airy style photos? So, use the manual mode of your smartphone or camera and set the parameters (for example the brightness and the ISO) so that it is already similar to the others and is ready to be edited.
Always use the same preset for your photos – to have a homogeneous feed, it is advisable to always use the same preset to edit all the photos in your instagram profile. Many people often ask me which preset I use for my instagram profile photos: I use one of the presets from my Soft Airy Preset Collection. The advice I can give you is not to overdo the post production: don't edit your photos too much and try to keep a natural effect.
Write the caption of your posts well – do not underestimate the importance of the description of your posts, it is generally advisable to also insert a "call to action" in the text accompanying your photo: the call to action is nothing more than a "push to act": for example, if you enter a question (as a call to action) in your post, users will be pushed to answer your question, and this could help you create a more active community. Start to create your posts also with my premade social media templates: read more .
I hope this article has been helpful to you, otherwise I will be happy to answer your questions or clarifications that you can leave below in the comments.
If you liked the article, I invite you to subscribe to my newsletter, where you can follow the most important updates of my blog by email.
I also invite you, if you like, to leave a like and a share to this article, it will be useful for me to improve myself, for my readers to read additional info about Instagram and maybe even for your friends who are looking for information about it.
Thanks for reading!